I'm set to take the test this weekend and there are a few things I would like to cover today before taking the test Saturday at 3 pm. Honestly, I kind of doubt I'll pass but its time to try as my scores on the pretests are in the 900 range and a 700 hundred is passing. The things that are left that are confusing are mostly repetitive questions where they change one detail and the entire thing is different. These types of questions are usually tough to find answers to on TechNet but can be recreated in a lab. However, I'm not going to set up a lab. Maybe one day but at present I don't really have the time or desire to create a Windows Server lab. Anyway, I've got 10 slides that I want to go through and hopefully I will get through them all tonight.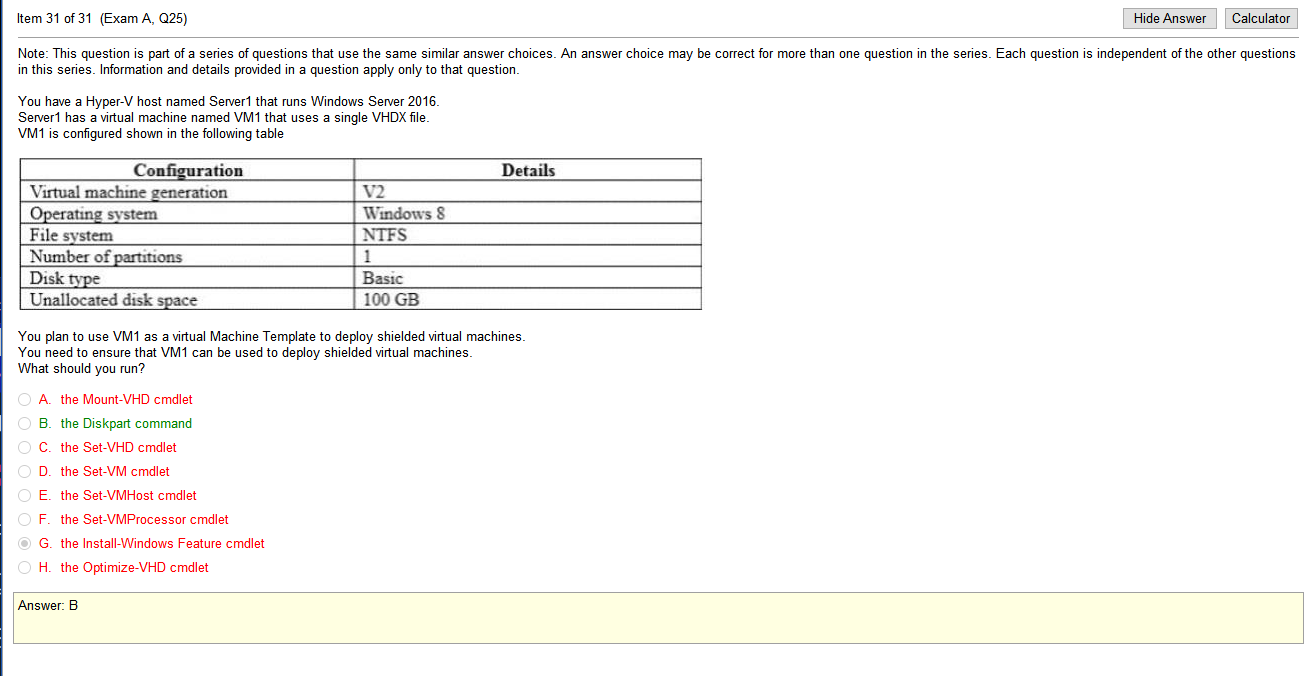 Based on this I'm going to assume that this a result of the disk being set as NTFS instead of GPT. I could be wrong about that but it does appear to be the reason that the answer is to use disk part. It's honestly kind of baffling that there are so many choices for types of disks and so forth that, to be honest, don't seem to do much other than cause issues. Reason number 428 of why Hyper-V is annoying lol. I mean, to be honest I haven't seen it in enterprise production use so I could be jumping to conclusions here.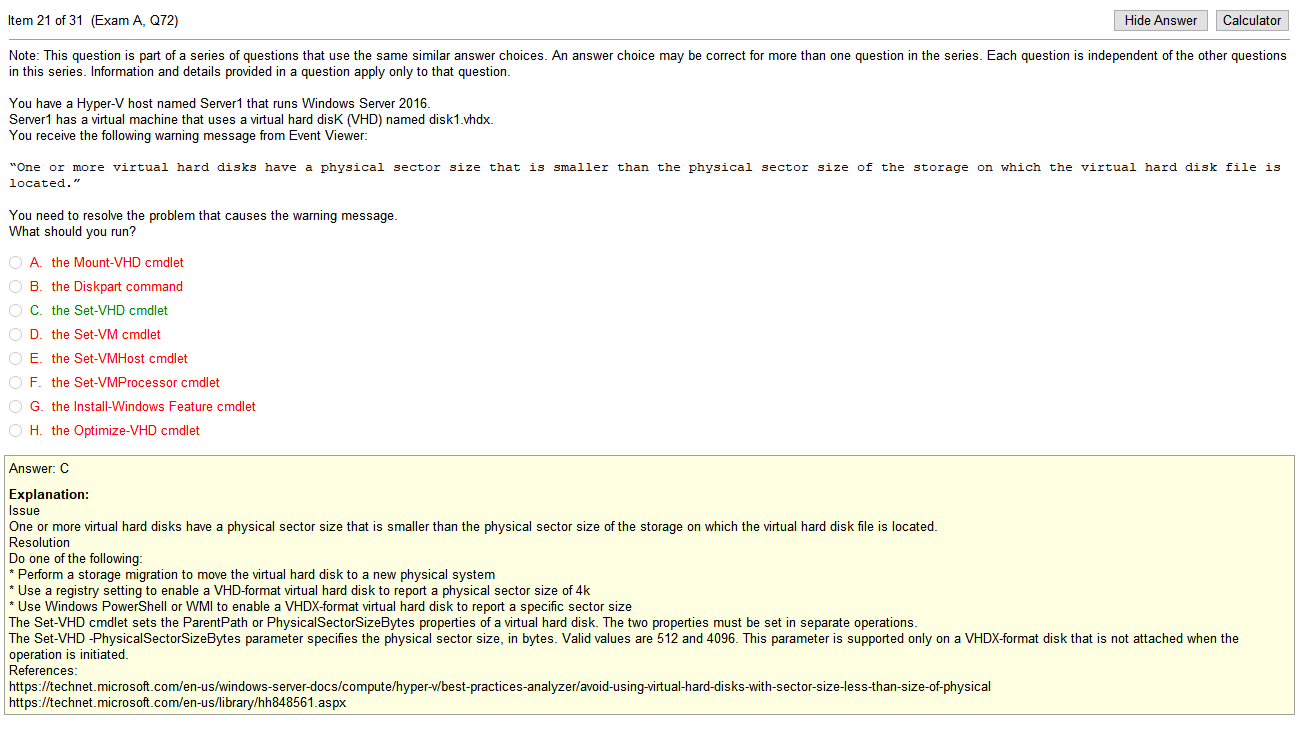 So one would assume that you would use disk-part to adjust something related to a disk but apparently that is incorrect. A quick search through TechNet yields this nugget that you would think would be the extra version but its not:
Set-VHD
[-Path]
-PhysicalSectorSizeBytes
[-Passthru]
[-CimSession ]
[-ComputerName ]
[-Credential ]
[-WhatIf]
[-Confirm]
[]
So now we know how to set physical sector bytes.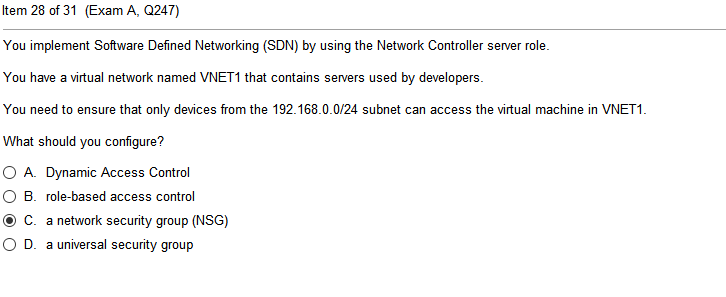 This is network security group thing is new and to be quite frank, I have no idea what it is. The only info I can find about it mentions Azure and none of the questions with this as an answer seem to directly mention Azure. Literally this is only used with Azure so its seems crazy that the questions wouldn't reference Azure. Honestly, this explains it the best out of what I found so far: Network Security group


This one throws me off and it took a while to figure out that there are several questions related to this and that the answer is the one that references SCVMM is correct and any thing else is wrong. I thought I took better screen shots today but it would appear that I did not.
Honestly I know what a Radius server is but the exact process, escapes me
Honestly, this is the best info. I cant really find the exacts for PS on this one. This is one of those things that makes me nervous for sys admins but I'm going to assume you figure things out after a while. Case in point, I've picked up most of this new material quickly. Granted, I have no idea if this is whats on the test and that has me nervous.

These questions confuse the shit out of me and I have no idea why any of them are the way they are but like they make sense in a lab I'm assuming. This one, actually has an answer. Which to be honest I don't even look at the answers usually. This one says we have to make iSCSI which makes sense.

The answer to this one is the fail over cluster manager and it seems like the questions that mention failover cluster that's actually the answer.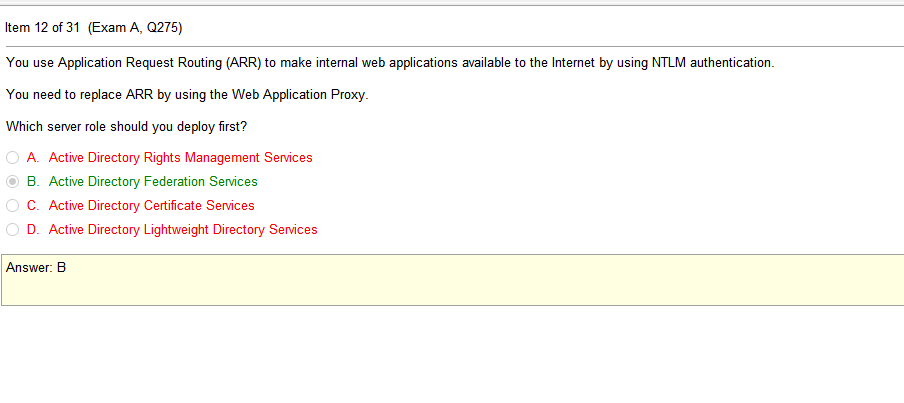 To be honest, again, I'm not exactly sure what's going on here so Web Application Proxy does require ADFS for auth. Its not totally cut and dry but its a safe assumption.
There are a few other questions that I'm unclear on as I pass quickly through the test as it seems like I'm looking at the same question and the answer is different but I know I'm missing a detail. I may go back through those
at a later date but for the rest of the week my focus is on just going through the questions and answering them over and over.