So here we are again! Its been a while. However I have not lost my zeal! I feel that some momentum was lost in the previous years of my study but in purchasing study materials I am very excited about digging into the TechNet articles about Windows Server 2016. Hopefully, I'll get through this one and then press on to the Server 2019 upgrade test.I'm currently working for Genuine Parts Company on Unix and Solaris servers. Which is much better than being unemployed however in just a few days of starting to gorge on Windows Server material I find my self longing for the days that all I was doing was studying and planning on how to pass tests! That said the goal of attaining a job working on Windows Server has not yet been obtained.
I have discovered that in my job search that this blog was largely ignored by potential employers and I let my subscription go. However, when going through the new material from various sources that I will be sharing test prep questions from I quickly discovered lots of room for conversation. Not to mention I have found my social life engrossed by tech twitter. I'm mostly following infosec accounts however 'hacking' is not necessarily my end goal. Or really even working in infosec. I would love to be on Windows Server however a SOC analyst position would also be intriguing to me. It seems appropriate for my skill level. I have the materials needed to start into a Security + certification and started getting pretty heavily into it then found the momentum lacking to finish. Not entirely a bad thing as I can always pick it back up. So I decided to take a look around at Server as my goal for this year was to get my Server cert up to date and Security +. Not sure if even one of those will happen, to be honest, however I did find my self entirely absorbed upon seeing what was going on in Windows Server beyond reading the free e-books that MSFT provided. Its not until you really start diving into the material that they are testing on that you find you self entrenched in what is happening. Im about 50 questions into the MeasureUp material and 30 or so into a VCE after a about 4 days of study. I can say that its much eaiser this time around and I may not have as much to blog about but it does seem fun to go through the questions that I have issues with comment on them.
In my experience the MeasureUp test prep is great because it offers answers with explications and click-able links. To be honest, its not really entirely helpful towards passing the test as they ask questions that are not on the test but if its understanding of infrastructure that you seek, this is helpful information. Will this get you a job, lol. No. Will getting a cert get you a job? No. This time around I want to get my self together and not loose site of my goals. I started into work at CareerBuilder after getting my MCSA in a basic tech call center job, that was absolutely amazing thanks to my coworker's and to be honest life changing in a lot of ways, however the technical portion of it left a bit to be desired. I then proceeded to get a girlfriend that worked in tech at a software company and didn't study anything really for about a year. Not entirely a waste of time as I gained a lot of life experience but at this point in time I'm ready to get back on the ball with certs. It would be great to have a resume that had 2012, 2016, 2019 MCSAs, a Hyper-V MCP, Sec + and Network +. Seems like it would be hard to ignore. Thats a pretty far reaching goal considering im away from home about 12 hours a day with figuring in drive time. I'm a pretty determined guy that's more thought driven than anything but coming home and memorizing information after a 12 hour day is not an easy thing to do. The reasons for doing it at this point have changed as I have no fear of loosing my current role but simply seeking to expand myself.
Any way lets get into some MeasureUp commentary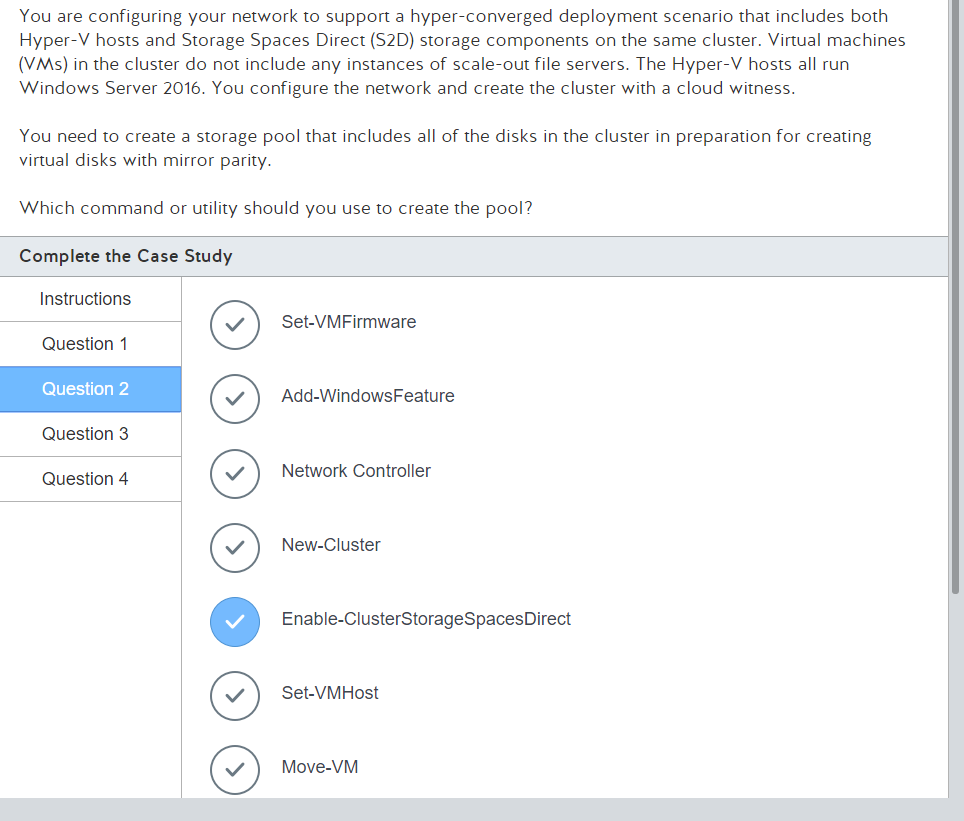 Right away I see a few things that I have no idea what they are
Ok so 'Hyper-Converged Infrastructure' seems to basically be the concept of Windows Admin Center but they appear to have added another name and there is networking stuff and they think its funny to use the term compute for some reason. 100% sold on this. To be honest, I'm not sure if SDN was included in the Admin Center in 2012 but in the rapidly changing world of computing it seems good to include it. Microsoft will most likely never offer hardware for networking however in implementing the large storage spaces offered in the current iteration that span the space of several physical services and a virtually unlimited amount of physical disks I absolutely see the importance
Ok Store Spaces Direct, this is cool. I'm entirely sure of the target audience as the the potential for storage space is absolutely massive. So massive in fact that I'm not sure who would want to keep data of this size on prem. However, I'm certain it has its uses. Will I ever personally get to deploy a disk array using this. Doubtful but who knows. Maybe ill be fortunate enough to get job working on Windows Server.
As you can see we haven't even gotten to the question yet and we are on question 2. Of 249. Yeah great. I'm totally going to be able to do this in my free time. Passion carry's us through I suppose. That said this one of those PowerShell questions that simply requires you to learn a cmdlet rather than theory. This is fine. Im sure ill complain more about PowerShell later.
I have one question left to answer. Why did I blog any thing about Security +? To be honest I'm not sure. I may hit some basic Linux and security stuff at some point but this was absolutely started as a Windows Server blog. I don't mind expanding but as the information is not proprietary its really hard to become inspired by a large collection of ideas produced and published by a single repository. It's more along the lines of learning 'this is a fork, it stabs food'. However, I've found that installing Kali can be tricky so I may go over setting up dual booting at some point as I still need to reinstall
Windows on my laptop. It's currently only booting a bare metal install of Kali which I'm not convinced is a great idea without a really great firewall but maybe that's just time for the good old infosec tinfoil hat. Am I deviating, yes I must have been anyway. The point being I may go over some Linux stuff.
That's all for tonight. One question and unnecessary information about my life. I suppose this blog is apparently simi-personal