This might be fairly short, which is good because its getting late and I have to work tomarrow. There is a thing called Cluster Node Fairness which is new for server 16. Basically it works the same way, from what im understanding (psst, thats a hyperlink) it will migrate VMs from overloaded machines to less resource started machines via live migration. At least according to the following exter from that website:
What is Node Fairness for Hyper-V? Node Fairness is a feature of Fail over Clustering (not Hyper-V) that will automatically Live Migrate guests away from an overloaded cluster node. Even though it is a Fail over Clustering feature, it only operates on Hyper-V virtual machines.
There is a question for this, hence the reason that I decided to blog like 10 words about it so lets get to that. I tried to find some YouTube videos but there wasn't really anything useful that I could dig up. Any way, question as follows: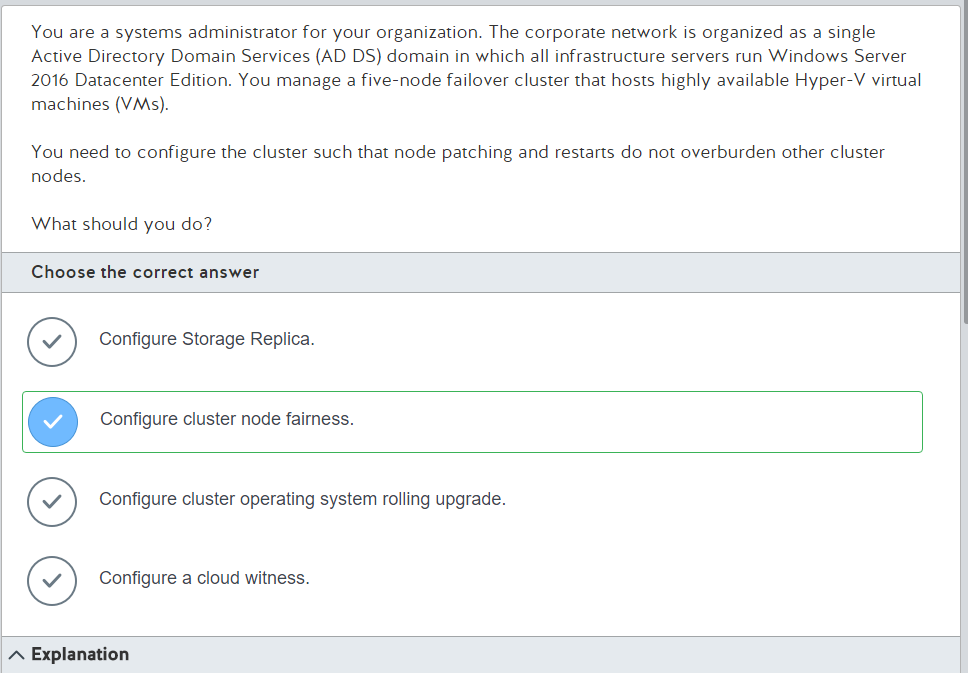 As you can tell, or at least to me, the wording in the answer dialog is not super clear. Its like this thing exists and so it exists jargon jargon jargon. So all it really does is this, if you have a fail over Hyper-V cluster it will drain and live migrate an entire VM to another node. This is a super cool feature but as you would have to have an entire farm of Hyper-V machines I highly doubt I will see this in production. Really at this point I would like to do any thing on Server. Create user accounts that leave room for privilege escalation and see if they can figure out their domain rights and exploit it.
Just kidding that's a terrible idea and a very bad infrastructure policy. Ethics aside, I really think that one link is all im getting out of this. I could post some TechNet links but they are fairly vanilla and not able to help as much as I would like for them to. However, I will leave you with this little nugget about Server 2019:
Failover-Clustering/Windows-Server-2019-Failover-Clustering-New-Feature
The best part is the guys hand gesture in the screen cap for every video. I have no idea whats going on there.